First Virginia Star Quality Rated Facility for MHC
June 11, 2013
| | |
| --- | --- |
| Day care first in area to earn star rating | |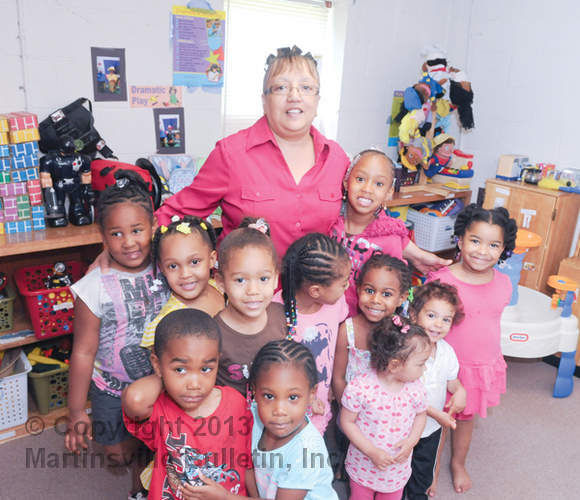 Sharon Martin poses with the children she keeps in her home. Her students include (front row from left) Nykori Jamison and Anhia Holland. Second row Kamori Dillard, Amya Martin, Sidney Reynolds, Kendra Hairston, Aaliyah Williams, Amya Martin, and Kimble Reynolds. Third row: Tahnyia Redd and Jordan Foster. (Bulletin photo by Mike Wray)
More Photos
Tuesday, June 11, 2013
By PAUL COLLINS - Bulletin staff writer
Eleven children, mostly 2 to 4 years old, eagerly sang learning songs. Children spelled their names. They identified numbers, letters and colors.
It was a recent morning at Martin Family Day Care, the first day care in Henry County and Martinsville to be rated through the Virginia Star Quality Initiative (VSQI).
The children counted by 5 to 100. They counted from one to 10 and then backward — in English and Korean. They did addition (or tried to) when fingers were held up on different hands.
They said a few words in Spanish, German and French, in addition to Korean.
"My children enjoy learning. They get excited about it," said Sharon Martin, owner and operator of the day care on Independence Drive in Martinsville. And when the children learn, "I'm happy. I really love my children. I'm proud (of them).
"I want my children to be more than ready for school," she said.
That readiness is critical to a child's future success.
"With the majority of a child's brain developing during the first five years of life, the quality of care a child receives during this time is critical," the VSQI website states. "Children with access to high quality early learning experiences are more likely to acquire the skills they need to? enter kindergarten ready to succeed and adapt to new learning and social environments.
"High quality care means that children are engaging in meaningful learning and play, guided by qualified early childhood professionals in an enriched learning environment."
The Virginia Star Quality Initiative was created to help families distinguish the level of quality in early care and education programs, according to an article on the website.
Martin is a pioneer locally because it is not easy to be star-rated, according to Francia Brown, local VSQI coordinator through the Smart Beginnings of Martinsville and Henry County early childhood coalition, and Sheryl Agee, grants administrator for the Harvest Foundation. Agee is a former director of the United Way's Success by 6 early childhood initiative and former director of Smart Beginnings.
About three years ago, Smart Beginnings started providing information to child care providers about the star rating system, why it is important and what a quality child day care looks like, including the kind of curriculum needed and structured play, among other things, Agee said.
About a year ago, Smart Beginnings sent out a notice that it would assist three day care centers in reaching a star rating. Martin applied and was accepted, Agee said, adding that Martin had been involved for years in professional development through Smart Beginnings and Success By 6.
Brown said Smart Beginnings is assisting the three-day care centers one at a time, so the other two centers still are in the pipeline.
Martin received mentoring and help creating a library, with lesson plans and with an outdoor play area. She also was assisted with some health and safety issues and other improvements (with the help of Rich Acres Christian Church), including shelves, cubbyholes, magnetic and chalk boards, and carpet.
There is no cost to the day care provider to go through the rating process, other than perhaps a minimal cost for monthly professional development training that is available to all day care providers, Brown said. The rating process alone can take one to three months, depending on whether a rater is available, she added.
Martin's day care received a rating of three out of five stars, and a high three-star rating at that, Brown said. Brown and Agee said that's excellent.
Martin's day care "is wonderful," Brown said. "Children don't know they are learning (because) they are having such a good time. I just love to see the kids. She (Martin) can walk into the room and their eyes just sparkle."
Melanie McLarty, interim director of the United Way Smart Beginnings initiative, said there are "very, very few" five-star day cares in Virginia because of the education qualifications for caregivers: a master's degree in early childhood education.
Martin's daycare's interactions score was high, McLarty said. "She is very good with interacting with children and families," she said of Martin.
Martin said she has been a licensed child care provider for 19 years and for several years before that was voluntarily registered to keep up to five children. (Caring for six or more children requires a license, according to online information).
The most important part of the VSQI process is not the star rating but rather improving the quality of services, according to McLarty. "It's all voluntary (in Virginia). It's mandatory in North Carolina," McLarty said.
Agee said Martin "has always been very proactive in improving the center, always on the cutting edge. The kids show the care they receive. They are very, very bright. ... She knows they (children) are sponges, learning constantly."
Martin said her day care has educational centers for such things as math, reading, dramatic play and manipulatives. She has taken children on nature walks and on field trips to such places as Owen Farm in Danville and the Greensboro Children's Museum.
Children take part in show and tell; helped plant such things as tomatoes, basil and green peppers; have learned Bible verses; and have taken part in other activities. Some of the children have learned to log onto a computer on which they can review numbers, letters, colors and shapes, Martin said.
She invited various people to the day care to talk to the children about their jobs, such as a doctor, nurse, lawyer, hairstylist, postal worker and former Marine.
"My most important goal is to be the best I can for my children and my parents," said Martin, whose assistant is Denise Hairston.
Martin said she is glad she went through the star rating process and that she learned some things that may help her get a higher rating the next time. For instance, she learned how to set up educational centers, how to better organize areas and how to teach academic themes, such as about seasons, she said.
Martin said she believes the star rating process would help any day care that wants to do a better job of educating children.
"Getting children prepared for school, that's what it's all about," she said.